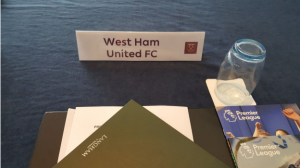 THis is a guest post by Mark Sandell, West Ham representative on the Football Supporters Federation (FSF)
Fifty years after realising at the age of four that I would never be good enough to play for West Ham, I did finally get to represent them  at the Premier League Supporters meeting organised by the Football Supporters Federation. That was just two weeks ago!
Apart from being a lifelong Hammer and season ticket holder for more than 20 years, I am a long­ time FSF member ( and their predecessor the FSA since 1990) and have worked with them on various campaigns and initiatives including their podcast.
I only got the call up after the legendary Gary Firmager told the FSF he wasn't doing OLAS any more. I took some soundings and advice from Sean Whetstone, Phil Whelans,Liam Tyrell, Jeremy Nicholas and Iain Dale among others, and took my place at a long oval table at the Radisson Blue in Portman Square,
At the stroke of 11.30am, Richard Scudamore and his Director of Policy Bill Bush arrived and off we went. There were 4 main items on the agenda :
1) The 30 pound cap on away tickets

Kev Miles , the FSF's Chief Exec, thanked Mr Scudamore for helping to get the " miraculous" deal "over the line" ­miraculous, he said as during the FSF's excellent "Twenty's Plenty" negotiations with the PL they had been told any deal was "impossible".
Although this had been well­received, the FSF had been getting reports that some clubs were reducing the away allocation in the light of this or liaising concession prices (e.g Palace v WBA last year was £32 a head, £16 for concessions,whilst this year it's £30 and £20). The Bournemouth rep has also said West Ham are charging their fans £30  and £ 25 for concessions, which is barely a concession at all.
RS said  concessions are entirely in the hands of those that give them. That means no club has to reduce prices for kids, OAPS etc as anyone who's taken their kids knows. He said reducing the allocation couldn't be done but it was up to the away club whether they took all the tickets to which they were entitled. In other words, Hull City say, can't just lop off a load of tickets meant for us in order to sell them at a higher price to their own fans.
There was also an assurance away fans won't be moved further away in light of the cap and that all away fans should by next season be pitchside (as they were at Upton Park) or the "nearest general admission to pitchside". There is clearly an awareness that the PL " product" doesn't mean a lot around the world without a proper atmosphere (insert your own Arsenal gag here). There was an interesting moment when Richard S said that a "30 pound cap is dangerously close to price­ fixing.
2) Changing kick off times for TV etc

The Chelsea rep started this subject going by talking about the problems of fans getting back home after long distance games and making plans (train/plane/coach bookings , time off work etc) for a match only for Sky or BT to move it.
RS said that it is a complicated area and that 60 odd pages of the 128 page broadcasters contracts are about this very issue. He said the deadline for deciding the televised matches in Aug/Sept has to be decided by July 6, Oct/Nov by July 28 and Dec/Jan by Oct 5. In other words, we should get 6 weeks notice of changes, but that decreases for the end of season fixtures for obvious reasons.
There was a moment in this discussion when RS said that to a certain extent this is what happens when you get £5 billion quid for your product ­and that "at some stage Bournemouth and Southampton have to play Middlesbrough and Sunderland".
Other questions : "should clubs be compelled to provide cheap transport for late­finishing or long­d istance matches?" ­ no, and to where ? was the answer to … would we want cheap coaches taking us back to Stratford after say, an away match at Middlesbrough on a Weds eve ? "Should clubs be compelled to pay compensation for lost money on hotels or transport ? " ­ again no, which prompted the Stoke rep to say "we don't all live in the affluent south you know".
RS then said, to my mind a little disingenuously, that he'd like to "play all our games on a Saturday" and that the FSF should speak to the FA about that funny competition that's been going on since 1872 ­ I am paraphrasing here but you get the gist.

3 ) Safe Standing
This has been another long standing campaign which as we know, happens in Germany and is being trialled at Celtic, though not without some resistance. This involves "rail seating" as in the picture, not just being allowed to stand in front of existing seats.
There was quite a discussion about this­ various fans talking about going to away games and standing throughout which annoys people with kids and those who struggle to stand ­ some talked about being allowed to at some grounds, and not at others.
There was even a suggestion that perhaps clubs could sell away tickets in "standing " and "non­standing" areas. One issue, raised by Man City, was that some clubs more favourable to the idea were being told by the Sports Minister that it would breach safety guidelines and asked the PL to seek guidance on this as it was a convenient way for clubs to avoid experimenting with the idea.
Bill Bush said he felt the problems caused with the current system (i.e fans standing up anyway) was a "customer care issue, not a safety issue" .
4) Living wage

Everton led this one talking about whether the PL should insist clubs pay it. Bill Bush said the PL would support any club doing it (as I understand it, West Ham being one) but it was a "question of where we give instruction and where not?"
There were a few smiles around the table when BB said that the PL paid the living wage to all its employees but didn't display the kite mark as they are "self­effacing". Not a word you often associate with the men of Gloucester Place.
This was indicative of a mixed message from the PL, who sometimes liked to give the impression that they were simply a humble group of fixture organisers there to serve the clubs and not tell them what to do. A others they gave the impression of being this all ­powerful mega global brand who could, say, tell the clubs to charge no more than 30 quid to away fans. You can decide which is closer to the truth.
So……
There were a few other topics discussed (Mr S left ­ as agreed ­ after an hour to chair a meeting about disabled access to grounds and some of the other topics­ like the role of the Football Ombudsman (no, me neither) were discussed in his absence.
It was a positive meeting with very little disagreement among the fans and the next one is scheduled for 6 months time which gives the FSF plenty of time to form working groups to look at some of the more complicated issues, and for you to decide how we'd like to feed into the process.
Mark Sandell, West Ham Season Ticket Holder Block 241