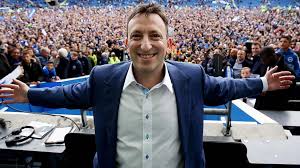 Amid speculation that the Premier League could follow the vote in Scotland to relegate two clubs after a vote has been described as "unfathomable."
Brighton owner Tony Bloom will speak for all those clubs involved in battling to remain in the PL when saying: "I don't foresee a situation, if the season's not played out, that teams will get relegated on a points-per-game basis,"
Partick Thistle and Stanraer, already odds on with Sportingbet mobile to go down, were both relegated from their respected leagues after a Scottish Professional Football League vote to finish, with speculation that the Premier League could follow suit.
The London Evening Standard reports that Bloom believes it would be unfair to relegate any club in such conditions.
He said: "I just don't think it's fathomable that a team which is not allowed to play out the season may lose out on 0.2 points based on this system, and also it does not take into account the strength of the team you have not played."
He said: "You may get a title winner, obviously Liverpool deserve it, you may use that criteria for European qualification but I do not see how anyone can vote for that, certainly the per cent needed (70 per cent), for teams to get relegated. I really cannot foresee that."
ClaretandHugh says: Total madness and how the Scottish FA came to such a decision is beyond any reasonable debate. The Premier League has made a point – along with its chairmen- of claiming the League's integrity must be preserved by the season being completed but how does a vote on ho is to be relegated even come close to such a position. We assume, despite us being clear only on goal difference, that we would be safe but whether that's the case or not it remains such a discussion – never mind a proposal to vote teams down – is  entirely unacceptable. With so many different scenarios being suggested as to how the season ends it's becoming almost impossible to believe that the PL has got this right in pressing on with such a hope. Yes of course there is the financial position for them to consider but anything approaching this idea – or most of the others is becoming more and more unrealistic.