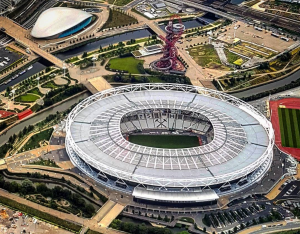 Stadium owners, E20 LLP face massive financial penalties if the former Olympic Stadium is not ready by Thursday 4th August for West Ham's first Europa League match.
The £20m retractable seating has been dogged by problems since Alto Seating went into administration last year and the seating has never properly worked as designed.
ClaretandHugh understand that the retractable seating operation takes far longer than the original planned seven days and is very labour extensive and costly to move between athletics and football modes. The owners and operators have invited experts from around the world to look at and suggest better ways to convert the stadium between modes but time is running out and real concern remains how long it will take when completed in anger.
The Muller Anniversary games finish on Sunday 23rd leaving just 11 full days between the end of the Athletics event and the first West Ham match on Thursday 4th August. Some construction experts think it could be touch and go with the conversion process which took a minimum 10 days during previous tests. If anything went wrong there is no contingency time to fix it.
West Ham's agreement with Stadium owners E20 LLP allows for massive financial penalities should the stadium not be available in time. Under the heads of loss clauses, the stadium owners would be liable for all costs of staging the event at another venue plus any additional costs West Ham suffered including any fine imposed on them by any footballing governing body.
West Ham could also claim any difference between the revenue it would have received at the Olympic Stadium compared to a different smaller venue and any other economic losses it suffered as result a change of venue. The liability is limited to £1m per incident. West Ham could make further claims should it be expelled from any competition or tournament such as the Europa League because of a lack of a home ground.