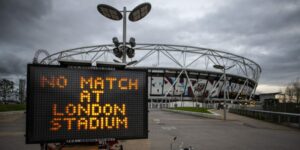 London Stadium owners LLDC have refused to speculate on the potential use of the former Olympic Stadium as a neutral venue for Premier League games.
West Ham holds a concessionaire agreement with stadium owners LLDC for competitive football games but those rights are non-transferable and a new agreement may need to be agreed for other teams to use the stadium as a neutral venue.
The problem is further complicated by the fact the multi-use stadium is booked for a Greenday music concert in late June as well as Athletics having use of it in July for the annual Anniversary Games. Although Major League Baseball have called off their London Series, Greenday and UK Athletics have refused to budge despite West Ham having a legal overriding priority in their contract.
Speaking Exclusively to Claret And Hugh an LLDC spokesperson said: "These are unprecedented circumstances and we are working very closely with all the Stadium concessionaires to manage the issues as they evolve. As the situation is very fluid and decisions have not been taken we will not speculate on what might or might not happen in the coming weeks. Any updates on events and use of any of the Park's venues will be communicated to the public when the information is available."