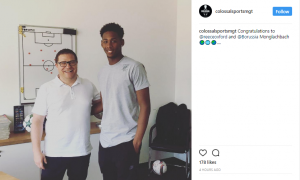 West Ham youngster Reece Oxford has been congratulated by his own agency after securing his loan move to Borussia Monchengladbach. The 18-year-old has arrived in Germany yesterday to finalise a loan that will see him spend the entirety of next season in the Bundesliga.
Colossal Sports Management tweeted a photo saying: "Congratulations to Reece Oxford and Borussia Monchengladbach"
After a disappointing loan spell at Reading last season the Irons are keen for the youngster to put a hard edge on his game and the Bundesliga is an ideal league in which to do so.
The defender is seen as a future West Ham captain with the Irons desperately keen for him to gain regular first team football but there is no chance of him agreeing to any permanent deals.
Chelsea centre-half Andreas Christensen has spent the last two seasons on loan at Monchengladbach and the German club believes Oxford can make a similar impression in the Bundesliga next season.
Borussia finished in ninth place in the league of 18 last season.