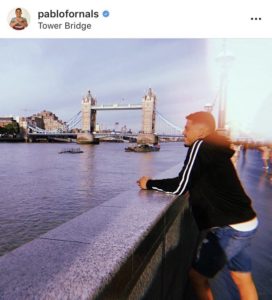 New signing Pablo Fornals has arrived in London but not to start work with West Ham just yet.
The 23-year-old remains on holiday after winning the European U21 Championship final with Spain in Italy last week.  He has taken time to visit some sights in London with his girlfriend of three years, Tania Lara with social media posts showing Tower Bridge and the London Stadium.
West Ham completed the deal with Villareal last month for the midfielder for around £24m on a five-year contract with a one year option.
Fornals won't be joining the Hammers squad in Switzerland and is unlikely to join the team in China either as he enjoys his contracted time off.  This could mean his debut for West Ham will come at Craven Cottage when the Hammers take on Fulham on 27th July.
The time off will also allow us to the London lifestyle and settle in his new apartment.