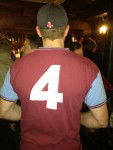 By Rich Sprent
Eighteen games left with the 'six pointer' at home to Palace this Saturday as we sit with a disappointing twenty two points – amazingly seven points clear of the relegation zone.
 I wrote previously  I expected the Irons to achieve twenty six points come January 3rd. Slav's men are four short and no one can judge them harshly on the dropped points against Mike Dean. It was a good tally of points over Christmas and calmed a lot of  relegation battle fears.
However, few would argue the quality of play over this period was appalling. Add in the the FA Cup debacle and comments appear from David Sullivan and Lady Brady that  effectively needs to be four points acquired from the next two games. The next six games involve five teams around us and a chance to avenge the FA Cup game last week.
Boro in two weeks will be tough. They have an excellent defence and in Negredo a striker who is finding the net when required. We will need to ensure that we don't go behind as they are not an easy side to break down, especially on Teesside.
 Next month kicks off with another evening game home to Manchester City on February 1st. The game will show us how these players respond to humiliation. We have the quality  to compete on the pitch with the Citizens. The confidence and current set up makes this a bonus fixture for Slav's boys. I don't enjoy saying it will take a fantastic effort and application from the team to achieve anything against them.
 A trip to St Mary.s always seems like a grudge match to me. Since we were both in the Championship they have managed to just be above us. They have put together teams based on modern analytics. This enables them to sell players for profit and even exchange managers without much change to their results. This season however, they have only won four of their home games. An organised and motivated Irons performance should be rewarded .
Tony Pulis' Baggies are in the top half and proving to be a difficult side for even the top teams to put away. Again, the Hammers have a score to settle here after a poor result at the Hawthorns. They are beatable and despite our poor home form we must be looking at the full three points.
 Watford away is another fixture difficult to call. They are an inconsistent side who see lot of goals at Vicarage Road, at both ends! They are the side, of course, who showed West Ham up at the London Stadium winning from 2-0 behind. Troy Deeney spoke that they felt 'disrespected' by West Ham's players flicking the ball around. Four unanswered goals later and we all could see that our season wasn't going to be the victory parade many thought. It's one of those games that will be difficult to call but at least a share of the points should be achievable.
I've left the first game 'til last. The South Londoners are on a six game winless streak and find themselves desperately looking over their shoulder at the three teams below. They are a solitary point above Sunderland in the drop zone. They will have noted that the Mackems have a home game v Stoke this Saturday.
Big Sam of course is back in town. The irony is there for all to see. A poor Hammer's performance and defeat would probably signal the end for Slaven Bilic.
Palace themselves are more than just beatable. They have conceded an average of over two goals a game away from home. Despite this they also know where the net is and have contributed to some high scoring games of late. Their last six away games have seen twenty eight goals being scored. This will be anathema to Allardyce. I am sure we do not need to listen too carefully to hear the mantra, 'Respect the point' .
For the last set of fixtures I used my expectations for a team hunting the Euro places. I am still tempted as I believe that despite this car crash of a season it is where this team should ultimately be judged. The performances however do not justify this anymore. The team are over the halfway stage and frankly look to me to be very fortunate in being mid-table. So with a modified set of expectations of a team now looking to be merely top half we should be looking at a minimum of nine points from the upcoming six games.
Going into March with thirty one points on the table will be a disappointment to many, myself included. However, this set of fixtures contains only one top side. The other five sides are those being directly around us, three of them below us. Getting at least five results from the six should keep the side in a healthy position in the table. The added bonus would be the added confidence to go on and attack the remaining twelve games with less fear.