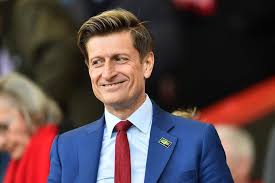 Crystal Palace chairman Steve Parish fears football could be facing a very long period in the wilderness if the League fail to get the game underway under Operation Restart.
Speaking on BBC One's Andrew Marr Show, he admitted that initial plans for league matches to be staged again from June may prove unfeasible.
But he added: "We would be derelict in our duty if we didn't find a way to try and bring the game back."
"It may prove beyond us."
With developments in Dresden and Brighton today showing that players are suffering poitive symptoms and with three clubs already on the record as opposing neutral grounds things remain on a knife edge.
Parish added: "The German example could provide a blueprint for us and clearly we can see some of the early challenges," added Parish.
"They may prove insurmountable, but the concern for us is that if they prove insurmountable now then we may be in for a very, very extended period of not being able to play and that has huge ramifications for the game."
Premier League chief executive Richard Masters has previously predicted a loss of "at least £1bn" if the Premier League fails to complete the 2019-20 campaign.
Parish believes that deciding the final league positions on the pitch, rather than relying on points per game or taking the current table as the final outcome, is preferable, even if conditions are far from ideal.
"Deciding it competitively would be best, obviously if we can play in our own stadiums that would be preferable for everybody, but for the moment that situation is with government and the authorities and not with us," he said.
"The police have made it clear that they don't think they can police every ground.
"I have enormous sympathy with [Watford chief executive ] Scott Duxbury's position. Having said that, I think it may well prove to be the least worst option.
"There are no easy answers, we have to work through it as a collective and I think we will come out with a consensus in the end."
He added, however: "Football is entirely unimportant in the context of the public health.