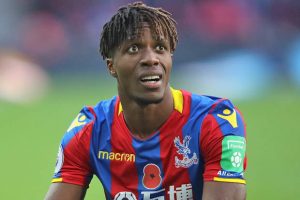 I hate to accuse anybody of cheating but in the case of Crystal Palace and Wilfried Zaha I make no apologies.
For in my book there is absolutely no excuse for their behaviour ahead of the match against us on Saturday afternoon.
For the simple truth is that had they not abused the appeal system Zaha wouldn't have been on the pitch and it's very unlikely a goal would have been scored from a deflection off Issa Diop's foot.
Many Hammers fans have taken to the social networks to complain and their moans are more than justified.
 Zaha netted the equaliser despite having received a one-game ban from the FA for improper conduct.
He received it after  sarcastically applauding referee Andre Marriner's decision against Southampton last month, which saw him given his marching orders.
However, Zaha appealed the decision, which meant that the ban was suspended whilst the appeal was to be reviewed, allowing the 26-year-old to face the Hammers on Saturday.
The FA needs to look at the timescales involved in its appeal procedures to  ensure no repeats.
That was a wrong un! Palace pulled a flanker on us that cost us big time.
COYI