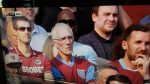 By Allen Cummings
Bournemouth's Pavilion theatre, built in the 1920's, has seen plenty of Christmas pantomimes over the years.
But yesterday, traditionally the opening day of the pantomime season, the stage in Bournemouth had move from the Pavilion to the Vitality Stadium, where the Cherries and West Ham made up the cast in a vital foot of the table clash.
The weather conditions, driving rain and gale force wind, provided everything that was needed for a Christmas comedy of errors and in truth both sets of players should be commended for putting on a show full of entertainment from the first whistle to the last.
But as we all know every good pantomime needs a villain. Referee Bobby Madley fitted the role perfectly. His performance throughout the game was bizarre. His decisions at times baffling. But it was his final curtain end-of-show stopper that has captured all the headlines.
How he came to his decision to award the goal that his assistant had already ruled out will remain a mystery to us mere supporters  because the men-in-the-middle don't have to explain themselves.
There's no requirement for them to explain or justify the most outrageous of decisions. In other words they are above recourse. Players can now face retrospective punishment for their actions. Referees can't.  That in itself is wrong surely.
Start supporting Claret and Hugh today
Claret & Hugh's team of creators work with passion and pride to bring you the quality of content that keeps you coming back for more. Support for our creators, however big or small, will help us keep your Hammers content fresh, frequent and loyal to the club.
£5 per month
£10 per month
£20 per month
£50 per year
Yesterday there were three crucial decisions for Madley to make and  he fluffed them all. The assault on Kouyate by Francis' sky high boot was 'serious dangerous play'. Madley saw it merely as a yellow card. King lashing out at Obiang?  Madley missed that one completely.
But saving the worst to last he chose to overrule his assistant, who was in the perfect position to make a judgement on the offside, the hand ball or both. Madley was nowhere near ideally placed to make his overrule. Yet he did.
To exacerbate the situation he permitted the Bournemouth players to seriously intimidate his assistant in an aggressive manner contrary to the laws of the game.
Of course, maybe we shouldn't be surprised by Mr Madley's actions. After all, he has plenty of 'previous' involving us. Like playing seven minutes instead of six at Palace where Zaha scored on 97.
Awarding Chelsea an 90th minute penalty for a foul 'outside' the area, not to mention awarding Bournemouth two penalties in our encounter there last season. Do I sound bitter? Of course I do, and with good reason.
Ironically Madley even seemed to revel in the boos that echoed around the Vitalty as he left the stage. Playing up to his role to the very end!