By Gonzo
Lucas Paqueta has announced in an interview on West Ham United's TV channel that he is beginning to adapt to his new teammates. The Brazilian has spoken of a growing understanding within the team and has admitted to feeling at ease in his new surroundings.
Paquetá was outstanding during Saturday's Premier League draw at Newcastle, helping the Irons recover from an early onslaught and capping an improved display with a well-taken goal.
Playing in central midfield alongside Declan Rice, the World Cup star combined effectively with the captain to perform admirably St James' Park. Paquetá earned West Ham's corner before shrugging off Kieran Trippier, controlling the ball and finishing past Nick Pope.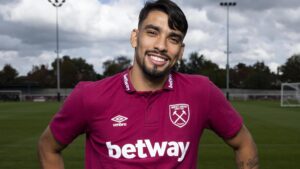 With Rice & Paqueta performing well in a growing partnership, West Ham produced one of their best all-round performances of an underwhelming season.
Paqueta said, "I think it's a very important point, Newcastle are at the top end of the table and we need to get points against these teams. It was a very closely matched game and I'm proud of the team's effort.
"I'm very happy with my goal. It's something I've been striving for and I was feeling a bit anxious about getting that goal. I'm happy to have scored and to help the team get a point.
"I'm feeling more and more at ease in the team now, connecting with my teammates and I hope that from here on I can do my best, I can help the team and we can get better results.
"I think we've started to play a better, we've started to understand each other more on the and we're working harder. I think we reaped the fruits of that with the result, which was an important point, and the other victories we have had in recent weeks."