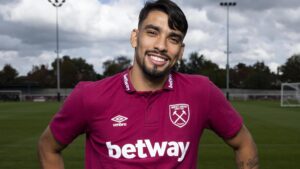 Lucas Paqueta pulled off an outrageous piece of skill when controlling and setting up a move with a ball off the outside of his heel against Anderlecht.
Indeed, he started to show what he is all about and although there have only been glimpses so far, the backdrop of Dimi Payet's days are being recalled as a result by Hammers fans.
David Moyes is very aware of the scenario and gave his thoughts on the two when talking to reporters at the Fulham pre-match presser.
He said: "We are seeing someone who is talented and a different sort of player we have had at the club for a long time. I don't want to put any pressure on him but maybe Dimitri Payet was the last one.
Every West Ham supporter I speak to always talks of Payet and what he brought to the club. Paqueta has an individual talent like that which is different to what we have got.
We have tried to add value to the team by what sort of players and add something. I am hoping Lucas can do that but I also want him to score goals, make goals, help my play be better. I saw his bit of skill and it was excellent."
We want to build a good team. Sometimes you have to build from the bottom up, putting another layer of bricks on and fighting and going again.
Sometimes you need to knock a bit down to go again. We think the players we have will add to that. We just need to give them a chance and Paqueta is another one.
He needs time to settle in. he has been in French football for the past few years. It has all changed for him in terms of the intensity and a couple of times he has been caught on the ball recently.
So it is something we want to try and make him aware of and understand, but he has already made one or two key passes for us and we are hoping to see much more of it.