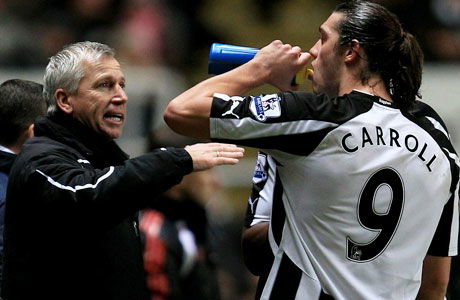 Newcastle United boss Alan Pardew would love to see Andy Carroll back in his home town.
Twenty-four hours ahead of the clash with the irons at the Boleyn, the Magpies boss has opened up on his admiration for the striker and his big mate Kevin Nolan.
Pardew was asked if he believed AC would be attracted to the possibility of a move home, where of course he has two children, and said:  "I think he would, and I hope he does come back to his home town. He has got that love here.
"I really enjoyed working with Andy. I think he's a terrific player. I know we get linked with him every two weeks, which is always probably going to happen whether it's me or another manager.
"But I'm not going to hide from the fact that I like him. I think he's a good player. I'm pleased that he's fit and not injured, as that's been his biggest problem since he left us.
"I think Sam Allardyce was right in his assessment of Andy – he's now worked with Andy for a while – he's sometimes too brave for his own good.
"He's going full-hearted for challenges when he's off-balance. He does that in training as well as in games, so of course when you're in a rehab situation, he's over-zealous at times purely because he's got that good, football aggression."
Much of Carroll's success at Newcastle came in tandem with Kevin Nolan and the former Hammers boss said: "Kevin was brilliant at this football club. We owe him a lot – all the players here – with the professionalism he brought and the winning mentality.
"But the players [now] are generally a lot quieter than Kevin. We want players to be more vocal. I would like more Kevin Nolans in my group.
"He's a very special sort of person in the changing room. He brings that to whichever club he goes to, that winning mentality, and that's why he's had such a fantastic career."