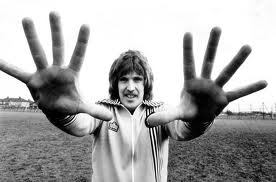 Phil Parkes has unhesitatingly named his Hammer of the Year – and it's not Dimitri Payet.
The goalkeeping legend is a huge fan of Michail Antonio and reckons the youngster should land the top award.
And he made it clear that he thinks using him as a full back should now be a thing of the past as we head into the ast crucial half a dozen games of the season.
Speaking exclusively to ClaretandHugh Phil said: "He's a breath of fresh air. He's so exciting, raw but he has given everything he has and probably a bit more since he broke into the side.
"He's still got things to learn but what I love about him is that he's the type of lad who shows every desire to do so. I have loved what he's brought to the team this season.
"I don't think there's much question that Payet will get the award but for me he has dipped off a little over the last few games with those exciting one on one runs. For me, although he couldn't be more different, Michail just edges it."
Mind you Parkesy would love to have taken on Payet's free kicks were he a few years younger and explained: "Despite what people are saying they are stoppable – everything is stoppable.
"I've watched him very closely and to have a chance of saving one  you have to see his feet. You must not move. Once he has struck it you then commit yourself. Ok, it has wicked dip and all the rest, but you can't move before he strikes it as I've seen happen.
"He is an incredible free kick taker – we all know that – but if you wait until it's in flight and back yourself, then you have a chance."