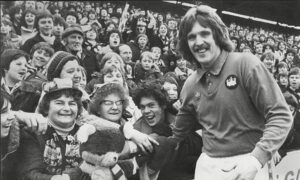 CandH Exclusive by Hugh Southon
Hammers goalkeeping legend Phil Parkes is not looking forward to a possible end to the season played in front of no fans and lacking any sort of atmosphere while people are still dying.
Parkesy was involved in the 1980 game against Castilla after violence marred the first leg and told ClaretamdHugh exclusively: "The game at the Boleyn was awful – a nightmare. No atmosphere – just dreadful. It was like playing a training match."
He's not entirely surprised, however, that the Premier League wants to play out 92 games in such surroundings declaring: "Whatever they say, it's about the money -nothing else.
"Would I play were I 28 years old and part of the Hammers squad? Only if it was entirely safe. That's a certainty. If that is considered the case then okay go ahead but let's not pretend anyone is going to enjoy it as a spectacle. And neutral grounds is not the way to organise it.
"A resumption will demonstrate that that football is about the fans – they give the game its atmosphere – no one else but with the amount of sponsorship money to be paid by clubs it's obvious they will want it on TV regardless.
"However, the truth is that while people are dying in their hundreds and new infections are continuing it seems immoral and even if they get it on it really won't be that great to watch."