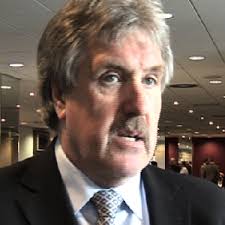 West Ham's heroic former goalkeeper Phil Parkes (right) has warned Adrian to "cool it."
The Hammers stopper has picked up two yellow cards in successive games against Liverpool and Manchester United and Parkesy has told him: "It has to stop."
Phil- booked just twice in his career – is a fan of the Spanish stopper but said: "He really should not have reacted to Mario Balotelli against Liverpool and then to save with a leg up in the air later was crazy.That could have cost us in a big way.
Speaking exclsuively to Claretandhugh Phil said: "I like him a lot and don't want to see him rested but he's being a bit naive and perhaps suffering a bit of second season…itis!
"And to be booked again in the match against Manchester United is not good. I think the boy is still on a big learning curve.
"He's a big favourite and has a great relationship with the fans but you have to remember that he was with Real Betis – his only other club – from the age of 10 and didn't make his first team debut until he was 26.
"He still has a stuff to learn and I'd sooner he didn't find out the hard way at the hands of the referees. I think he's finding it a bit harder this season. He's still making good saves although he may not be as strong on crosses.
"He's still a bit raw but I wouldn't want to see him dropped. However, our goalkeeping position is one that perhaps needs to be strengthened.
"You have guys like Petr Cech out there and others so that may be something for people to think about. At the moment though he shouldn't be dropped.
"I see Manuel Pellegrini is talking about rotating his entire squad including the keepers. For me that's madness. The spine of the team in particular needs to be left alone and players don't need 'dropping' if they are in form.
"Our second string, Jussi Jaaskalainen, has been a great keeper but as things stand should only be used in an emergency."