It's rare to find "a story that never was" in a footballing age when access to players is so tightly controlled.
So when the quotes from Dimi Payet surfaced this week explaining how much he loved West Ham United and
would 100 per cent be staying, we all danced with joy.
At the time of course we had no idea how those particular quotes had been collected and  Dimi's long time agent quickly made it clear no interview had been given to any journo explaining the quotes were not"pure inventions in the imaginations of a journalist." 
The journalist concerned – JustinAllen -not unnaturally –  took to Twitter to defend his story explaining: "He (Dimi) was at Jtn 11 M20 services. Sounds like agent doesn't like fact Payet spoke without his say  so  I certainly did not make it up. What I wrote was true. End of"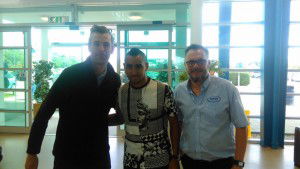 He added on Facebook that the midfielder was grabbing a KFC meal at the service station.
Allen provided more 'proof' by publishing a photo of Payet with his (Allen's) mates at the M20 services.
He then tweeted  "Dimitri Payet with my pals at M20 services returning from Euro 2016, where he said: I'm 100% staying at #whufc"
Now this is where things possibly start to unravel and questions arise. Given he was out with his mates did he  introduce himself as being from The Sun and asking for a quote on the subject.
If so I'm not sure that Dimi would have done so or posed with his mates whom he probably believed were just members of the public or keen Irons.
That appears to be the most realistic explanation because it's been several years since I or most other journos have had any other response than "speak to my agent" when asking leading questions of player. It's the way it is.
Mr Allen's explanation: "What I wrote was true. End of," is all well and good but what's of more interest is under what terms the quotes were collected.
Sadly, it really is the story that never was until that question is answered.
By the way Dimi not so sure about a KFC but we'll let you off as you are on holiday.