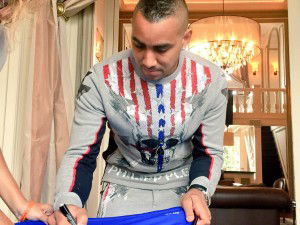 French newspaper L'Equipe confirms that Dimitri Payet had already travelled to Paris ahead of France's internationals as this picture shows.
They explain he has been troubled by a pain at the top of his thigh but the club and the player didn't want to take any chances to worsen it. L'Equipe say that since the Chelsea match, Payet has only trained twice, on Friday and Saturday this week.
Another French reports confirms Payet has arrived at Clairefontaine National Centre for the first gathering of the France team since the Euros. The other 21 players summoned by Didier Deschamps are due to arrive by mid-day, to prepare for the friendly match in Italy on Thursday and in Belarus next Tuesday as the French begin their qualifying campaign for the World Cup in Russia.
Yesterday David Gold dispelled rumours of a conspiracy theory around Payet's absence saying "There is nothing 'happening' with Payet, I expect him to be available for the Watford game. dg"