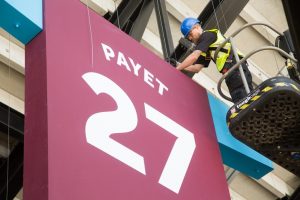 Speculation that Dimitri Payet may be loaned to Marseilles until the end of the season looks 100 per cent NOT ON!
A number of media outlets have suggested we could be tempted  to accept such a deal with an option to buy in the Summer.
But our top inside source laughed off the latest reports on contract rebel Payet and said a loan deal with Marseille was a zero possibility!
And we were told jokingly that were it to happen it would involve a £10 million loan fee!!
Marseille made a third bid of £23m earlier this week but the Hammers are in no rush and no desperate need for the money.
Insiders say they are happy to let the negotiations run on until transfer deadline day and if a deal doesn't happen they believe they will get more in the summer when the market is more "open"
The club refuse to be pushed around  and believe they have the upper hand. American billionaire Frank McCourt has promised major player investment to Marseille, a promise he has so far failed to deliver. He has got more to lose than the West Ham owners in terms of relationship with fans.