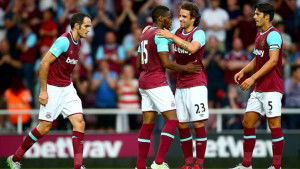 West Ham had until 11th July to register further players for the second qualifying round of the Europa League. Dimitri Payet, Modibo Maiga, Stephen Hendrie and Martin Samuelson have been added to the Hammers Europa League squad.
The club is also allowed to introduce one additional player to the A list up to 24 hours before kick off so any new signing could yet be added including Carl Jenkinson who signed on loan today or Angelo Ogbonna who signed the day before the list was submitted to UEFA.
Andy Carroll, Stewart Downing and Sam Westley have been dropped from the squad listed on the UEFA website    Downing is expected to complete his move to Middlesborough this week, while David Gold revealed Andy Carroll will not be fit until September. 21 year old Sam Westley has also been removed presumably to move way for more senior players in the 25 man A squad.
Sakho and Payet are listed as suspended. Sakho is serving a one match ban from the first round while Payet is serving a ban from his time at Marseille.