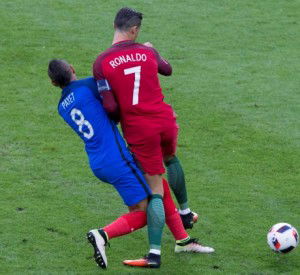 Dimitri Payet has received abuse on the social media platform Instagram following his coming together with Ronaldo last night during the Euro 2016 final.
Although his latest post of the French team with French fans has received over 154,000 likes it has also received an incredible 335,000 comments, many of which have been abuse in the 12 hours from Iran of all places.
Ronaldo is a hero and icon to football-mad Iranian fans and they quickly made their feelings known to Payet, flooding his Instagram account with accusations he had intentionally injured Ronaldo, even though the referee did not rule the incident a foul.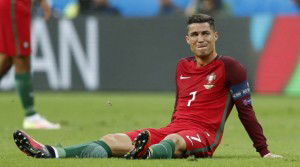 A stream of abusive posts on Instagram came Payet's way in Persian, with insults that included branding him a "son of a dog". But not everyone agreed with the abuse, with at least one poster asking for forgiveness from "All Iranians".
Cristiano Ronaldo's mother also launched an attack on Payet after his robust tackle forced her son out of the Euro 2016 final.  Ronaldo's mother Dolores took to twitter to say  "I cannot see my son in this way," she wrote in Portuguese. "The game is about kicking the ball, not hurting the opponent. My son left the field but our team can win. I trust that we will be able to lift the cup."