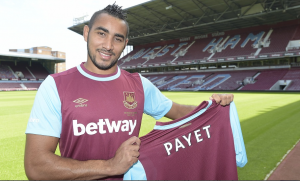 Dimitri Payet created a tremendous impact on his Irons debut and walked away from Roots Hall delighted with life.
It gets no better than a two goals and an assist in the 3-2 win over Southend and afterwards he told the official site:
"I enjoyed playing with Diafra and all my new team mates.
"We are not as sharp as we can be, but we will improve. I think we can be very good.
"I don't think I'm far away from being fully fit but it depends on how many games I play. I want to play as much as possible. "Hopefully today was just the first two goals of many for West Ham."