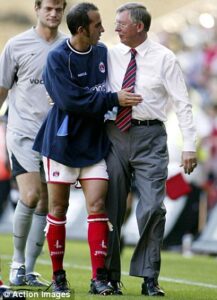 Paolo Di Canio could hardly be more loved than he is already by West Ham fans.
But the Italian genius has now revealed that he even turned down Manchester United when legendary boss Sir Alex Ferguson wanted to sign him.
The news make the man an  immortal Hammer – if he wasn't already – given the level of the Old Trafford club's achievements under the Scot.
PDC's skill level were probably the greatest we have ever seen at West Ham and always put me in mind of a great story told by former boss Harry Redknapp who rescued him during the worst period of his life.
Harry told how Paolo had asked for some time off back home in Italy after a hectic spell of games promising that he would continue to train.
Harry had the perfect response and quipped: "Yeah course Paolo but I think you really need to concentrate on your skill levels, don't you?"
Paolo told  Sky Sports News' Transfer Talk podcast;  I thought it was a joke, I thought it was my friend from Italy,'
'My stomach went a bit because it makes you think you have underestimated yourself, that you are bigger than what you thought. Man United call you, try to persuade you to move because they want you. For a couple of minutes you feel big and strong.'
'It was strange for me to say no to Sir Alex. I said "thanks, 1000 times thanks, but I can't. West Ham are the family that warmed to me in the worst moment in my life, I'm the skipper, I can't."
'He told me, "Paolo, respect for this, I love people that think in this way. You are the man that I thought you were."'