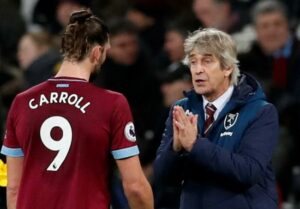 Manuel Pellegrini has admitted that he believed Andy Carroll may be facing 'career over' during his final days at the club.
The manager admits he was always very worried about him "because he always worked very hard was a very good person and a very good professional."
Carroll in fact made just 14 appearances under the manager managing just one FA Cup goal against Birmingham City along the way.
And when the time came there was no question of the player receiving a new deal from the club and as was widely expected returned to Newcastle where it seems more than likely he will end his career.
He is currently fighting a groin injury and is thought likely he may be okay to make a return in front of us at the London Stadium on Saturday.
Pellegrini claims he did his best for him at the club explaining: "In the year I worked with him, whenever he had any problems I tried to give him the opportunity when he was fit but it was very difficult for him too
"Of course for you as a manager it is the worst thing that can happen when you have big names but you cannot use them because they see you have a very good squad but the players are not ok to play.
"I was very worried about the amount of injuries that he had in his career. For a player it is the worst thing that can happen, not to be able to have the continuity and play games in a row.
Asked by reporters if he felt his career would end early the manager said: "Of course, if he hadn't had so many injuries in his career he could continue being in the team. He demonstrated in the first period at Newcastle."
Instead, he returned home and what a wicked irony it would be were he to return to the LS and score!