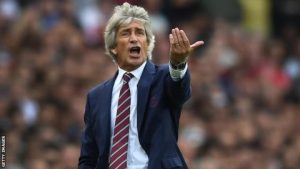 When managers explain publicly they don't believe a player will have problems with their future contracts they usually know more than they are saying.
So it may well be that Manuel Pellegrini was sending out a coded message when he was moved to discuss the Declan Rice position.
And given that he is getting so much else right  it's probably a good idea – as I'm sure he is doing – for Declan Rice to take very seriously the comments his boss is sending in his direction.
Declan was magnificent again yesterday, entirely neutralising Paul Pogba and ensuring the Frenchman was hauled off to end a miserable week for himself, United and Mourinho.
Our 19 year old simply put him in his place and never let him out of it – beautiful to watch.
Pellegrini, however, knows he can get better and better. And as a result he has told him to get his mind off money and contracts with so much within the game for him to be thinking about.
Its worth reminding ourselves of his words which haven't had enough publicity.
The boss said: "I think Declan must have to keep making good performances and not think about making more or less money in this moment.
"No one in the club is stupid enough not to understand that he is not a young player any more.
"I don't think he will have any problems with his contract in the future."