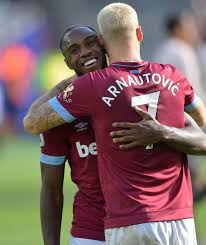 Two games to go before we can all settle down to the serious business of telling Manuel Pellegrini who he does and doesn't need this summer before moaning or applauding him when he does or doesn't take out advice.:-)
I jest!
The biggest issue will of course be up front where Maxi Gomez's arrival looks as close to a given as it ever gets at West Ham.
But maybe the clear-out we expect will not include Marko Arnautovic who, on Saturday anyway, looked to have the perfect strike partner in Michail Antonio, a player getting better and better as the season possibly ends too early for him.
As mentioned previously, at 30, and with a reputation that precedes him in the game an Arnautovic  move at a depreciating transfer value looks unlikely and I reckon he will be a West Ham player for a while yet.
At least one pundit declared this weekend that it had surprised him Pellegrini had taken so long in recognising him and Antonio as a pretty lethal partnership on their day. It certainly looked that way at Spurs.
Yes,  we know that Michail can be hit or miss in front of goal but he's getting better and at Manchester further goals were only denied by a flying De Gea save and the woodwork. He is looking more and more lethal in the role.
Hopefully he and Arnautovic started  something on Saturday which could genuinely go a long way towards solving the problems in front of goal in the long term.
It could mean that with the arrival of Gomez we have sufficient strike power when you weave the likes of Yarmolenko, Anderson and a bang  to form Lanzini into the mix.
With Gomez arriving at around £40 million, left back Leonardo Koutris at £10m and central defender Guillermo Maripan at £20m these may be the three additions which will make all the difference.
Let the fun and speculation begin.
COYI