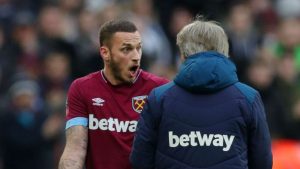 Hammers boss Manuel Pellegrini has defended Marko Arnautovic claiming he was not guilty of the defeat by Everton.
However, from his explanation of the booing the striker received when subbed, the manager seems to have missed the point which goes back to January.
There is an obvious bias growing up against the Austrian who may have made matters worse by showing, anger, frustration and deciding to argue with a fan or fans after his substitution.
The boss – in discussing the booing declared: "The fans boo when they are not happy with the performance of the team.
"This case it was Marko as the two changes were at half-time so they couldn't do it.
"I think we cannot believe the performance was one player as the team played the way they did today. Marko Arnautovic was not guilty why we lose the game."
All well and good but Hammers fans can be pretty unforgiving when they feel let down by the personal behaviour of a player as witnessed  by Ravel Morrison and  Dimitri Payet.
They are not a fan base to mess with and will send you from hero to zero in a heartbeat – this is what has happened to Arnautovic and it's difficult to see a way back for the bloke.
I believe this is his last season although his problem may well be that clubs tend to fight shy players who bring as much baggage as Mr Arnautovic.