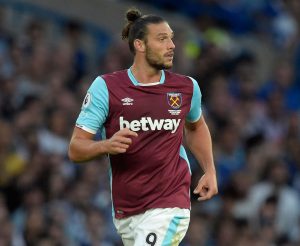 Andy Carroll contract chances remain very much fifty fifty as the striker heads into the second half of another injury ravaged season.
And his situation at the club is now more delicate than ever as he hopes for either a new deal or for the option to be triggered on his existing deal.
His first goal was timely against Birmingham City following the slow build-up that manager Manuel Pellegrini has handed him since he recovered from injury.
But the boss is still giving few clues publicly on his own thinking, concentrating rather more on what he must do rather than what might happen.
Discussing the issue with reporters he did make it clear however that the striker faces a big challenge at a time when all the whispers are that the club may be ready to sell if the right offer is made.
But for now and were he – for example to score important goals against Arsenal things could turn on their head overnight.
The manager said: "I think that Andy has a big challenge from now until the end of the season to try and renew his contract because he's a player that during his career he demonstrated his level. I think he did very well against Birmingham. Now we are in the fourth round and continue in the FA Cup we will see his performances.
"It was important for him to start having more minutes but not immediately 90 minutes, that's why I gave him 25, 30, 60, 70, that is important to him not to risk any new injuries.
Now he is coming back he demonstrated that he can play without problems, now we hope that he will be fit for the rest of the season."