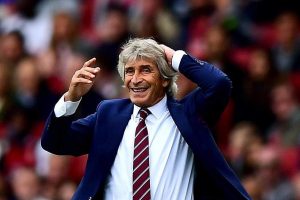 The anger in West Ham's dug out this afternoon was something to behold today and spoke more loudly than any words – in fact it screamed!
The calm composure of the generally very private Manuel Pellegrini was shattered as his face contorted into rage at a team that looked as if it needed to be introduced to each other.
He was seen in a fury from the fifth minute shouting and indicating to his team that the really HAD to start talking to each other.
Animated doesn't begin to  get close and at half time as the boos rang around the stadium he stormed – by his standards anyway – down the tunnel.
The boos started again in the 64th minute when Arnautovic found himself being subbed after a very poor game which may have been explained in part by a minor knee injury which immediately received an ice pack.
Arnautovic too was in a fury and threw his water bottle down which an eye witness claimed hit a fan's seat. We were told by the same onlooker that the occupant turned around and allegedly said: "Oh you can hit something then."
The player's reaction is unknown!!
It would be easy to say this was a day to forget but perhaps it should be remembered by the squad for a long time to ensure there is never ever a repeat.