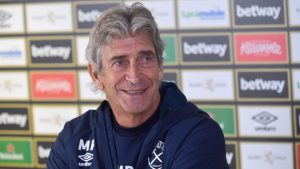 Manuel Pellegrini yesterday saw his training methods justified after regularly claiming the bad run would come to an end.
The Hammers were sensational at times against Everton with not a poor performance on view other than an uncertain appearance by Carlos Sanchez as a sub.
And afterwards the manager said: "I was absolutely convinced that we were going to finish getting the bad results."
"We were unlucky to lose the last three games. Maybe we didn't deserve to win, but we didn't deserve to lose them also.
"It's so easy to say we are going to change because this is not the way, but I was absolutely convinced that this was the way.
We came here to a stadium where it is very difficult [to win], and we went for the game from the first minute. We scored goals and we always tried to continue scoring.
" I saw the players working every day and [up until now] we have been working well in the week and maybe haven't been able to repeat that in a match.
"We continued working because we had to be able to repeat that in the games, when there is the pressure of getting the result. I was convinced and the players were convinced too."