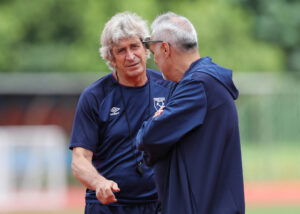 Manuel Pellegrini has defended Mario Husillos during his pre-match press conference at Rush Green yesterday.
Asked about recent speculation about his director of football the manager told reporters "I don't talk about speculation. All the evaluation of different work must be at the end of the season. I know him very well, he is a very good sporting director and I don't think the club is not happy with him."
Questioned further on whether he was to blame with some of the summer signings, the 66-year-old added: "I repeat that I know Mario since before he came here but I don't want to talk more about that because I don't think that has any problem."
Asked whether some of Husillos's signings were working out, the manager insisted they must be judged at the end of the season by saying:
"At the end of the season is the time to evaluate the new players that have arrived at the club not in a moment when you are not winning. It will be the same for the evaluation four games ago which would have been absolutely different. It cannot be each week you are evaluating different players. You must wait until the end of the season."
When challenged about Roberto's performances he replied  "I don't talk about individual players. I talk about the team. The team is not winning and when you are not winning it is because everyone must do better, including the manager, the players and individual performances. As a team we need to improve, especially from set pieces. They are not the way we want."
Pellegrini and Husillos previously worked together at Malaga for a year between 2012-2013.  Mario rejoined Malaga in August 2012 with Pellegrini leaving Malaga in May 2013 to manager Manchester City. The suggestion that they have worked together for years and years seems unfounded.  It is interesting that Pellegrini used the term sporting director to describe Husilos role, the same job title he had at Malaga.  The title used in Europe denotes a senior executive position usually higher than the head coach and in Europe job description usually involves reporting to a senior board member and overseeing the overall running of the football side of the club rather than just the transfer business.