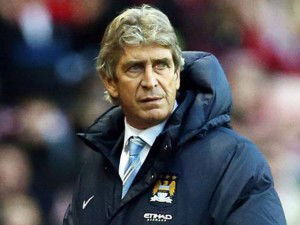 That Manuel Pellegrini is on his way to London and expected to arrive on Monday for an interview at West Ham United is massive and for the first time in months I'm excited.
There is no doubt  that the former Manchester City boss – and architect of same of the most beautiful football you could wish to see – may just become the next manager of the club.
If he does it will be a massive breakthrough in the structure of this club.
And it will stop once and for all the unpleasantness which has been seeping out since David Moyes, not unnaturally I guess, got the hump at being ditched.
If Pellegrini does get the gig it will have been the fans  who forced the situation on West Ham United's under siege board in general and David Sullivan in particular.
But he too – if he pulls this off – can take massive credit too for:
No 1; Listening to the fans
and
No 2: Making it happen
Ok this piece may be premature – many a slip between cup and lip etc – but Rafa Benitez is in the frame too and whatever anyone may think of Sullivan – he is nobody's fool.
He has taken more flak this season than many chairman take in a lifetime and it is unthinkable to believe that he would go onto the official website making it clear he will have somebody in place by next week if he weren't certain.
When he makes it clear that person will be experienced in the Premier League and Europe failure to land him will make him more disliked than ever and I for one don't see him risking that.
As we go into the first weekend of the summer this should be a time for hope and optimism – a time to hold our fire and simply wait and see.
The next round will be about whether the new manager will be backed with the sort of cash he will require. Can we really believe that a man of Pellegrini's stature would risk his reputation were that not the case.
And remember too that he left Real Madrid, joined a Spanish West Ham equivalent in Malaga, led them to their highest ever La Liga placing and into the Champions League.
For me, he's the perfect man and a gentleman into the bargain who will represent a club, that has been under the cosh daily, very well indeed.
He's also very good with the media and God, how badly does West Ham need some decent press right now.
Exciting times.
COYI