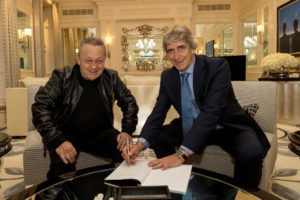 Continuous reports of more multi-million signings for the Hammers over the coming days and weeks this summer should be taken with a large pinch of salt.  Last season Manuel Pellegrini stated publcily he prefers quality over quantity and with Pablo Fornals and Seb Haller signed this summer he has certainly got that.
Manuel Pellegrini has already admitted he is essentially happy with the squad with the big additions this summer.
Pedro Obiang is unlikely to be replaced when he completes his exit to Italy this week with the squad already midfield heavy. An exception to rule of replacement would be the departure of Javier Hernandez which would require West Ham to dip into the transfer market again but it could be difficult for Pellegrini to find a striker of better quality with the funds available to him.
Historically Pellegrini has shunned loans in the past in his previous football management roles and it remains to be seen whether a loan striker would be a realistic option if Chicharito did move on.
Many supporters will say we need another centre back, left-back, defensive midfielder as well as a striker etc but ultimately it is the manager's decision and we should trust his judgement. He is his own man and not pushed around easily.