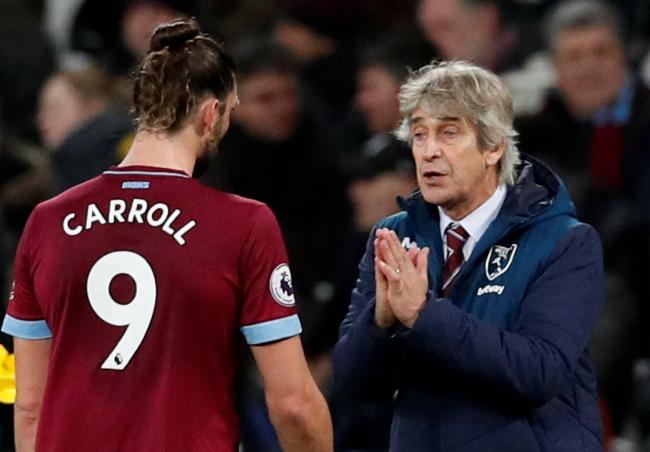 West Ham boss Manuel Pellegrini  refuses to say where Andy Carroll will be playing next season.
The striker – who has made just two starts this term – is again injured with no timetable on his return -but there has to be every chance he may have kicked (or headed) his last ball in anger for the Irons.
Carroll's old ankle injury – which has plagued him throughout his career – has flared up again and given the 'previous' this could see him out of action until the end of the season and into the summer.
And by that time it's highly likely the Irons will not be exercising an option on his current deal or producing a new contract for the player.
The wrong sort of headlines have followed Andy around for a long time now. Whether they are justified or not is another question but the time looks to be approaching fast when a move abroad – probably America, one of his favourite places, – is his remaining option.
Discussing his current problems with reporters the manager said: "Andy felt a pain in his ankle, the ankle he had surgery on before, so we must wait until he finishes his medical examination.
"He is always in contact with the medical stuff and the examination could be next week but I can't tell you exactly."
Asked if he was disappointed with the striker this season the manager said: "No because I think every time Andy was able to work he gave 100%, always with a good attitude, so I'm not disappointed with him."
He was  diplomatic when asked about the contract option and agreed Carroll hadn't had enough time to prove himself adding: "I think Andy will play more years without any problem.
"He will resolve the problem with his ankle. He worked for the last three months without any injury so I think it's just a matter of time but he will return to play, here or for another team."