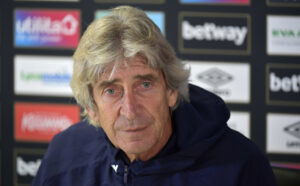 Manuel Pellegrini will again demand a quick start when the Hammers line-up for the game against Wolves tonight.
The Hammers finally demonstrated at Stamford Bridge at the weekend that they can take a game by the scruff of the neck from the start after some particularly poor beginnings over the weeks.
That they did so and tested the Blues for 90 minutes, was a victory in itself and more of the same will be needed tonight against a very capable Wolves outfit.
The manager believes it is even more important when playing away to ensure the home side doesn't gain an immediate advantage and it also means that you quieten the home fans.
The midlanders are now on a very impressive run and that makes it even more important that we demonstrate our approach from kick off.
We have gone behind too often this season not to learn lessons. playing catch up will be particularly difficult tonight.
Speaking at https://www.whufc.com/news/articles/2019/december/03-december/pellegrini-we-must-go-three-points-road: the manager said: [Starting quickly] is the first thing that I always say to the players you must do, especially when you are away," Pellegrini explained. 
"If you allow the home team to just play and you just defend, it will be more difficult to maintain your result, so you must be an aggressive team. I think that you must feel that you are coming for the three points. That's what we did against Chelsea and we are going to do it tomorrow also.
"Of course it is so important to keep a clean sheet. At our best moment of this season we kept four [Premier League] clean sheets in a row. 
"It's so difficult to play always when you go one goal behind, because they have more space, so I think that one of the reasons why we played well was because the defenders were very concentrated and we defended every ball."