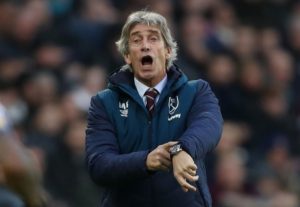 Frustration is starting to creep in over Manuel Pellegrini's tactics as the Hammers lose their second game in a row against opponents which should be beatable on paper.
With a whooping £8m per year salary the 66-year-old manager is expected to significantly outperform his predecessors in pushing West Ham further up the table with the hope of a good cup run in the process.
It certainly seems to be a case of second season syndrome as supporters are currently uncertain whether he can improve on last season's tenth place finish.
Former manager Slaven Bilic on a quarter of Pellegrini's wages finished 7th in the 2015/2016 season, a feat also surprisingly achieved by Glen Roeder in the 2001/2002 season.
Former Hammers managers Gianfranco Zola and Alan Pardew managed 9th place finishes during their time in charge of West Ham while Sam Allardyce and Alan Curbishley could only equal Pellegrini's tenth place finish as their highest finish.
Harry Redknapp holds the highest finish in the Premier League finishing fifth in 1998/1999 season.