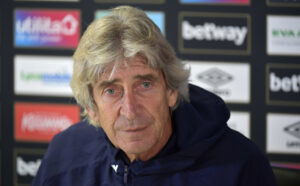 Manuel Pellegrini has given his view on Everton in his pre-match press conference today at Rush Green.
Pellegrini told reporters "It is difficult to analyse their situation. Last season we beat them there when we were in a position that they are now. Games are always different though, I am sure we will find an Everton with high pace and looking to get better results than their last games."
Asked about Everton's current lack of form Pelle added: "They have very good players and a team that is very strong every year. I suppose I expected them to not be in that position in the table. Because we won that game last season it is in that moment we played in the way we wanted to. We want the same result again this time as well."
The Hammers won the same fixture 3-1 last September with a Yarmolenko brace and Arnautovic grabbing the third.
Unfortunately Everton returned the favor by beating the Irons at the London Stadium in March this year when they came away 2-0 victors.
ClaretandHugh says: One thing we can be certain of is that the Hammers will go to Goodison determined to attack the out of touch Toffees and they will be looking to keep the crowd silent from the start. The last thing in the world we need is the sort of slow start that cost u so many points last season. Any hangover from the Palace defeat needs to be washed out of our hair by now and a free flowing attacking game from the start is key to our chances. We an talk up too much the importance of the game to Everton given their situation but the reality is ours is equally critical and with everybody fit bar the keeper and Antonio there can be no excuses which, the last game excepted, has been in great form. This should be a game to enjoy and if the likes of Lanzini, Anderson and  Yarmolenko on form we should be performing like the big club we have been hearing so much about.