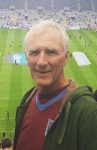 By Allen Cummings
Less than a week into his new job and speculation is already growing on social media and within the popular press as to the players Manuel Pellegrini might be looking to bring in to kick start his much anticipated West Ham revolution.
Social media of course, where else, has growing list of 'marquee' signings (don't you just hate that phrase) meant to take us to that sought after 'next level.'
Everything depends of course on what kitty the new manager is given – £50m – £60m of new money being the most popular  figure I've seen being banded around. That will be supplemented  from the predicted departures.
If Pellegrini's previous initial spending spree when he arrived at Manchester City in June 2013 is anything to go by, every penny of that could be required.
It's interesting to note when he first rocked up at the Etihad, the new manager wasn't slow in splashing the cash. – £36m for Fernandinho was supplemented by £18m for Jesus Navas, quickly bringing his spending to just over the £54m mark in his first month.
July saw a further two additions to the City side. Stevan Jovetic for £23.4m and Alvaro Negrado at £22.5m taking the total outlay thus far to a tad under the £100m mark. But Pellegrini wasn't quite finished. There was still time to add Martin Demichelis for a relative bargain price of £4.5m.
Will Pellegrini be looking to embark on a similar spending spree at the London Stadium. World class players in a world class setting?
Is that the kind of outlay David Gold was alluding to when he said: "What I can assure everyone is that we'll probably spend more money in the window than we've spent in any window in the past." Maybe, best not mention later during his three year stay he also spent £68.4m on Kevin De Bruyne and £57.3 on Raheem Sterling!
If we were to match that initial level of spending, what might we expect in return? What would the board get for loosening the purse strings to that kind of extent?
In that first season in Manchester Pellegrini had won the League Cup by February 2014. Then went on to win the Premier League title in May of that year.
Their 2-0 final day victory over the West Ham taking City's Premier League goal tally to 102, and in all competitions to a staggering 156. Clearly if you want goals and entertainment, Manu is the man.
I think we might all settle for something like that!