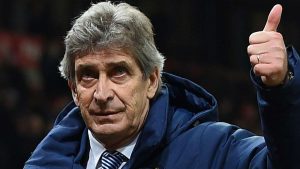 Manuel Pellegrini has revealed the Hammers board made it clear to him in their early negotiations they wanted to invest money into the club "in the future."
Speaking at his first press conference ahead of the Liverpool game he said: "When I spoke with the owner, we agreed what the project would be for West Ham in the future.
They wanted to invest money, as have most clubs in the Premier League, and I think we have improved the squad. The Board have worked very well and we have a competitive squad."
And after bringing in so many new players he was asked whether he would have a big selection dilemma but responded: "The difficult thing is when you don't have options.
"The players know I have to pick a starting XI but they also know you need a strong squad and not just a team to be successful in the Premier League. You need two players in each position and they need to train hard for every game, then it is my decision to pick the starting XI."
He admitted keeping players happy in a big squad was "one of the most difficult things for a manager" and added:  "The more players, the bigger the problem, but as I said it is more difficult when you have no options and just eleven players.
"For me, it's easier to have more good players and some of them must wait for their opportunities. The 40 days we have worked in pre-season, the players are working very well with our new ideas and our new system."