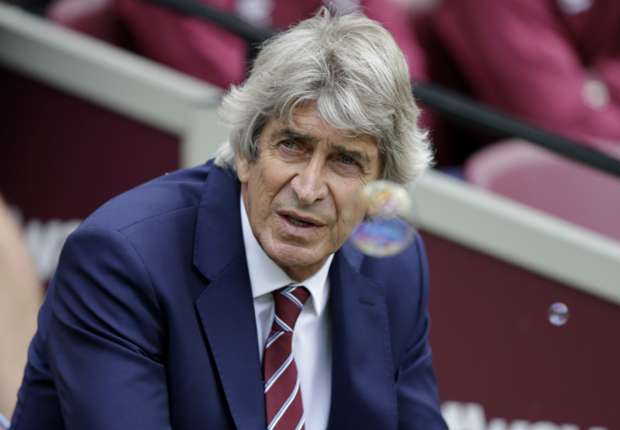 Manuel Pellegrini has revealed that neither Javier Hernandez or Michail Antonio will be leaving West Ham following the arrival of Sebastien Haller.
And he has made it clear that he is now working on developing the right system following the arrival of the club's record signing at €45 million.
Although a second striker was thought to be on the agenda, finances are now very tight and it seems probable that the three front man on the books will be sharing the front duties this term.
Nothing has been ruled out thus far but thoughts that Chicharito may follow Andy Carroll, Lucas Perez and Marko Arnautovic out of the club are remote.
Pellegrini, however, is delighted with the new boy from Frankfurt after the failed six month pursuit of Maxi Gomez.there is relief that we have finally got a top line striker among the management team.
Pelle told whufc.com at  https://www.whufc.com/news/articles/2019/july/17-july/sebastien-haller-important-striker-our-squad-manuel-pellegrini: "We signed Sebastian Haller because we need a striker and he is an important striker for our squad
"He had a very good season in the Bundesliga and Haller will play more as a centre forward, but he can also play as a winger so we have another option on the wing.
"When you compare the squad list to last season, we need players in his position. We lost Marko Arnautovic, Andy Carroll and Lucas Perez already this summer.
"So, we needed to find a new one and we have different options now. He is not only a box player, he will play well outside of the box. It will be his first season in England and I know he will be a good striker for our team.
"We also have Michail Antonio and Javier Hernandez [who can play up front] too. I think we are going to have a good squad and now we have to find the right system."
Pellegrini also dismissed the suggestion that the signing of Haller, who has scored more than 100 career goals for club and country, means any of the aforementioned forward players will be allowed to leave before the transfer window closes in early August.
But the manager did admit that players in other positions may be allowed to leave.
"Haller coming will be good for us," he confirmed, "and at this moment we are not losing any more players in attacking areas of the squad. In other areas, we will see."