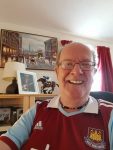 By Hugh Southon
Burnley 3 West Ham 0
What follows excludes Robert Snodgrass and Aaron Cresswell!
Seven games in all competitions without a win … the results getting successively worse and the performances as bad as any most will be able to remember.
So what next? My knee jerk reaction is to say – after all the praise I have poured on Pellegrini – please quit mate, that's the decent thing to do.
And to the board: If you are considering spending around £20 million in the window, pay off the present managerial team because it's becoming as plain as the nose on our faces, they have no answers.
Many are gonna blame Roberto for this horrible defeat . He even managed to somehow punch a corner into his own net  but we need to remember he also made a cluster of top range saves which would have seen us lose by seven or eight.
When you find yourself thinking: "For God's sake let this end so I can watch a movie" you know this is a football club in the most serious bother.
Personally I can't remember a time when I have felt more disheartened about the present or the future – we are a shocking team.
We went behind from a set piece again, Balbuena produced a real howler for the second and Roberto pawed the ball into the net for a third.
On top of probably the worst performance of the season – we seem to be saying that every week – Manuel Lanzini was stretchered off with a horrible looking shoulder problem after Mark Noble had been replaced early on after suffering an ankle problem.
Who knows where this is going to end but it really is starting to look very serious indeed and one way or another an answer has to be found to the big problem.
And that right now appears to be Mr Pellegrini.