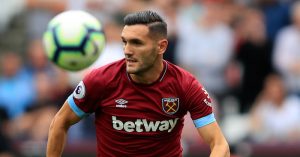 Today's horrific stat is – and it hasn't escaped the manager's notice – that the Irons have now conceded 26 goals in 16 games since the turn of the year!
The arrival of Fabian Balbuena and Issa Diop was thought by many of us to have solved the 'loose at the back' issue but not in a million years it seems.
Ok, Angelo Ogbonna has been involved over the last 20 odd games and although he has played well for many of them he too has to take a share of the responsibility.
It's known that the manager is going for further defensive reinforcements in the summer but it remains deeply disappointing that on days like this we can't close down a 2-1 lead until the 90 odd minutes is up.
He said: "We have made a habit of conceding such goals over the last couple of seasons and if we are to become the big team the manager relentlessly tells us we are, then something has to change fast.
Discussing the problem after today's game, Pellegrini told the post match press conference: "We  conceded two easy goals, including one in the last minute of the game.In most part of the second round, we are conceding two goals in each game, which is too much.
"We used space in the wrong way in our defending. We were pressing too high with our centre-backs without any reason and they have good players and put the ball into this space.
"In general, I think the team played well, but you cannot concede so many goals. We can defend better."
Pellegrini was pleased with Lucas Perez, however, adding: "Lucas came in and did very well. He made good moments and reacted to the rebound to score the second goal, then he scored the third goal, which was ruled out.
"It's very important, in that position, when you have chances, to score."