Manuel Pellegrini has told WHUFC.com  that is happy with the way his team played on Saturday saying they had the mentality of a big team and tried to play as a big team.
 "I'm very happy for the club and for the fans that we beat a big club like Arsenal, but more pleased with the way we played, From the beginning, like I always say, we tried to play as a big team, to have the mentality of a big team, to have an ambitious mind and I think the team reflects all what I am talking about."
"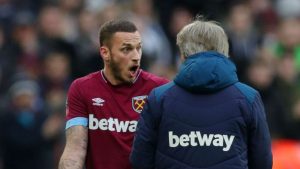 Samir is a top player and as he gets more minutes and gets more fitness, he will make the difference, as he always did for Arsenal and Manchester City," the Chilean observed.
"For us, in that [No10] position it was very important to have those kind of players because the other three, Wilshere, Lanzini and Yarmolenko, are injured, so Samir is improving and I am sure, because I trust a lot in his game, that he will continue to do so in the future.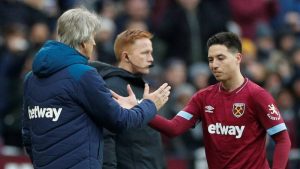 "He was behind the striker and I don't think he is able at this moment to play on the wing or as a holding midfielder but in two or three games more I think he will be able to play in any of those positions.
"He can play on the right wing, he can play on the left wing or he can play in the position I play Mark Noble. He doesn't have any problems as he's a football play"
Claret and Hugh say:
Speaking as a TV pundit on Sky Sports Jack Wilshere said it was a difficult start for Manuel Pellegrini with four defeats in a row and not everyone was convinced with his methods and some people questioned him early on. Just five months later and the gaffer seems to have instilled that big team mentality he talks so much about and giving his team self-confidence to beat the biggest teams.
He has also proved he is a no-nonsense manager where no one player is bigger than the team. I have no doubt he would rather Marko Arnautovic leave if he is unhappy that force him to honour his contract. He is the manager we have been waiting for and he is worth every penny of the reported £10m per year we are paying him. We are only six months into his three-year plan, imagine what he could achieve bt the end of it.