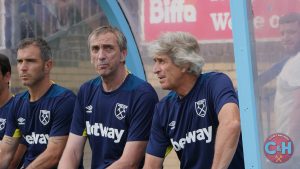 Manuel Pellegrini has displayed a clear preference for the 4-2-2-2 formation throughout his career although it is often mistaken as a 4-4-2.
His teams hold a fairly deep defensive line.
He prefers two big, strong and solid centre-backs with two defensive midfielders in front of them to provide a sold shield.
Pellegrini likes his teams to dominate possession so they can control the flow of the match. He tells players that the other team can't score if they don't have the ball.
Pellegrini plays a very free-flowing attacking system which is fixated on width.
Fullbacks are normally situated very high up the pitch, bombarding forward at pace at any given chance.
In attack, Pellegrini prefers mobile forwards who drift to the wings and run all over the forward line, this allows the wingers to come inside to affect play without clashes in spatial positioning by the strikers.
When his team lines up against possession-oriented teams, he switches tactics from an attacking 4-2-2-2 to a more conservative 4-2-3-1 or a 4-5-1 with either one of his forwards dropping deeper to help the midfielders out.