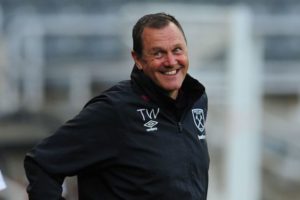 Terry Westley fully expects Manuel Pellegrini to have whittled down his midfield options by January.
But the former academy chief –  who the boss very well in their time at the club together – expects him to hold on to them all until the winter at least.
The reality is of course that there will have to be a cull at some timewhich could form a dilemma  for as Terry explains: "There will be players who will see themselves spending too much time on the bench and there will need to be departures as a result."
He doesn't believe any of that will cause Pelle to ignore the youngsters claiming that one of the manager's biggest strengths is his determination to involve them once they are good enough.
He used  Grady Diangana as an example saying: "The manager loves the freshness of youth which sees them doing what comes naturally dribbling at and taking on defences.
"But then they have to go to the next level – they have to go on and become Premier League disciplined. Nathan Holland is another like Grady and I'm looking forward to his breakthrough."
The former academy chief – now Technical adviser to the J League – loved his time at the Hammers saying: "It was tough following a legend like Tony Carr but this was a new era for the club and I think we did ok.
"I'm proud of what we achieved and now I will be watching the best prospects around in Japan and no doubt will be tempted to let Manuel know what I have found out here."