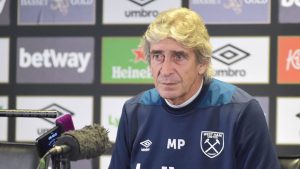 Manuel Pellegrini refused to discuss January transfer targets at this afternoon's press conference at Rush Green training ground.
Talking to reporters as transcribed by Football.London the gaffer said: "The only thing I can tell you is that we have been linked with 14 or 15 players that are coming to this club in the last month.
We are thinking about Huddersfield, we have time until the window but we will see the recovery of some players and then decide after that which is the best player we can bring here."
C&H View:
Pellegrini might be concentrating on the next game this weekend and seems to have a general dislike of press conferences but it would be foolish to suggest that the scouting department under the director of football Mario Husillos are not preparing possible lists and targets for January and already scouting possible targets in certain positions.
The reality is that transfers require months of preparations in the background before they get in the public domain and contracts are signed and the announcement made.
Using a network of scouts across Europe and a video analysis department using specialist scouting software the scouting team will have dossiers on tens of players ready for the manager when he gives the word.
It is too early to say whether any of the rumours have any truth in them as I am sure the net is thrown long and wide at this point of the season but any attempts to give the the impression we will only decide on them in January is wacky to say the least…and that's being generous.