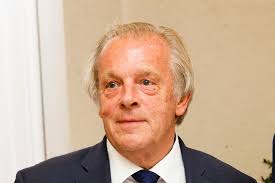 A cut in players wages is not on the agenda of Professional Football AssociatIon chief executive Gordon Taylor at the moment.
He has made it clear that footballers' union oppose a blanket wage deferral for players, fearing clubs will try to cash in on the coronavirus crisis.
Many Premier League and Football League clubs are facing crippling wages amid a shutdown which is devastating their cash flow.
But Taylor- talking to Sportsmail – said the union want to know 'the precise financial position of a club before agreeing to any deferral, to prevent clubs from capitalising on the pandemic to save money.'
The 75-year-old said: 'We don't just want anyone taking advantage of this crisis to suit their own ends. A request for deferral of wages has to be realistic and meaningful and needs due diligence. Players have their own welfare to think about.'
Sportsmail says is aware of at least three clubs who have asked players to take a cut in wages to help protect non-football jobs only to be told that they cannot agree without PFA consent. Birmingham City and Leeds United have gone ahead with deferrals anyway.
Taylor said: 'Inevitably clubs are putting it to players — the captain or the PFA delegate. But we are encouraging players not to accept that. One group (accepting a deferral or cut) makes players at other clubs feel uncomfortable. We would rather do it with everyone, including us, involved.'
The PFA's stance is that pay cuts, rather than deferrals, are not necessary because of the possibility that leagues will recommence. Taylor said: 'There is no need to make a cut if the season is completed.'d Birmingham are two Championship clubs that have gone ahead with deferrals 
That position — which is expected to be challenged when Taylor meets the Premier League and EFL again on Wednesday for the latest meeting of football's emergency task force — has been criticised by some club chiefs who feel the union has not grasped the reality facing clubs."
ClaretandHugh says: First a basic…a union is set up to protect its members and in normal circumstances and for other reasons Taylor's  position would be perfectly understandable.. But these are far from normal circumstances. In fact they represent the biggest 'catastrophe' most of us will ever face in a lifetime both from a health and economic point of view. That is almost a given. Plagues tend to do that!! So for Taylor to be talking of clubs cashing in on the crisis is a nonsense – it's impossible to run any business on your own capital – there has to be revenue.We get his point about seeing whether the season will start again and that's the only reason we aren't ready to mount an all out attack. But if it doesn't and he refuses a pay cut he will be doing them a big future disservice because it's inevitable that clubs will ensure they run more sensible wage bills…SURELY!