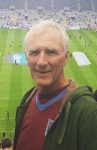 By CandH blogger Allen Cummings
So the Premier League, in their wisdom, have supposedly warned clubs not to use the phrase 'null and void' when discussing contingency plans for the eventual destiny of this present season.
They would prefer clubs to use the word 'curtailment' instead. Apparently that is in order to provide more protection in the event of legal proceedings taking place if the season cannot be completed – a clear reference to the millions of pounds that TV has already paid out to the league, and ultimately the clubs, for a coverage that now appears in the balance.
Payments that may well have already been spent by those same clubs – who now face the prospect of having to fork out refunds.
We all understand football these days is big business – even though many of us don't really approve of the way our  game has gone. But is football in general, and are Premier League clubs in particular, any different in these unprecedented times to other businesses, big or small, on the high street or on line, one man or one woman?
All businesses are taking a hit and suffering the resulting financial challenges. They don't have the opportunity of devising ever more convoluted ways to somehow carry on behind closed doors.
Their future is out of their hands. They have to do what they are told – in the interests of us all. Their doors are closed, and they will remain closed, until it's deemed safe for them to open again. Sadly many of those businesses may 'never' open their doors again.
None of the Premier League clubs will go to the wall if the season isn't completed. It's unlikely any Championship clubs will either. Sadly the same cannot be said about clubs down the divisions.
But from what we see and hear, as always the Premier League are more concerned with themselves, rather than being bothered about those further down the food chain.