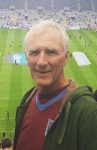 By CandH blogger Allen Cummings
I hate 'Player Power'! The thought that one player can hold a team, a club and its thousands of supporters to ransom appals me. No one player is bigger than any club – I don't care how good or how big he (or his brother) thinks he is.
But if stories circling around the Arnie 'departure' are to be believed – and like everything we read in the media, hear on the radio or see on the TV  they have to be treated with caution – it's 'Players Power' at West Ham that has been instrumental in Marko Arnautovic being shown the exit door.
So in this instance I'm prepared to make an exception.
Like many of us, I believe the players can see this club of ours is on the verge of something really special under Manuel Pellegrini but for that to happen everyone needs to be focused and together?
Arnautovic, by his recent antics, was threatening our happy home. He was clearly upsetting the fans by his actions, and there was a very real danger that a wave of anger, frustration and negativity was beginning to gather momentum.
Apparently the other players were unhappy about what was going on, too. One week back and all the talk was about him again instead of the team!
The story is they got together and let Pellegrini know just how they felt, and how they wanted a quick rather than protracted resolution to the issue.
It now looks like their wishes were taken on board – no pun intended – and the club has acted swiftly and accordingly. Nice one lads. First win of the season in my book.
West Ham UNITED 1
Team Arnautovic 0