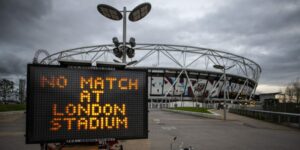 According to a report in the Daily Mirror, football players are ready to revolt over plans to stage games behind-closed-doors.
They are said to have voiced major concerns to the Professional Footballers' Association after both the Premier League and EFL raised it as a strong possibility last week.
The Premier League have even mapped out a plan to return behind closed doors as early as May 2/3 to get football underway again as they are under pressure from TV companies to fulfil their fixtures or risk losing hundreds of millions in multi-billion pound TV contracts.
Players are adamant they do not want to play behind closed doors because:
They fear for their own safety amid strict Government warnings over social distancing
It could put their own families in jeopardy if they then become infected
Extra strain would be placed on emergency services with ambulances, paramedics and security would be needed at a time when they are already being stretched to the limit
They do not want to play in empty stadiums with loyal fans being locked out
The concerns are being passed on by the PFA to football's authorities with players adamant they are against the whole notion in principle.
Claret and Hugh say
It is hard to disagree with any of the players concerns as listed above, it should be heath and safety first and football and money second.
No-one will praise the football authorities including the powerful Premier League for putting money over safety and the fans. Football should only resume when it is safe to do so for the players and their families and not to suit TV companies and schedules, preferably it should be played in front of supporters however long it takes.
Ultimately we could even see strike action by the players if no common sense approach is taken by the powers that be.